In the latest episode of OPW, we celebrate the nuptials of Mike (23) and Pinky (24) in a simple yet tasteful ceremony. #OPW where are we on my age verification request?
A dynamic soiree bringing together two distinct cultures from different countries – the DRC and Zimbabwe. We were hopeful that this wedding would have been a sight for sore eyes or something out of a Top Billing episode considering the groom paid R150 000 in lobola.
Twitter lit up at this revelation: 


Another comment that had me in full agreement was; 

Needless to say, another bride proved to us how all the money in world could neither by you style nor fashion sense. We give this wedding a 5 out of 10.
Here's how they lost their points:
The colour purple should remain a movie and the mix of colours was just a little too much to bear. Not sure what the bride was trying to get to, but it certainly did not work.
Pink ribbons should be left to the cute little flower girls. The wedding dress was already underwhelming, but to add that hideous bow to her waist was a waste – No!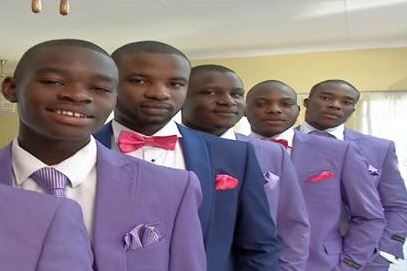 Choosing a bully as your maid of honour – bride looked less than happy. I mean, how is it that the only thing you chose yourself was your shoes?

Where were the guests at this wedding? Only the mother was reported to be stuck at the border gate…where was everyone else?

The groom looked stunning in his navy blue, fitted suit and stunning body while the bride looked overwhelmed by her dress and not in a good way.
Also, can we leave this first dance thing to people who know how to do it. The bride literally tripped on her dress and almost fell over! Can we not!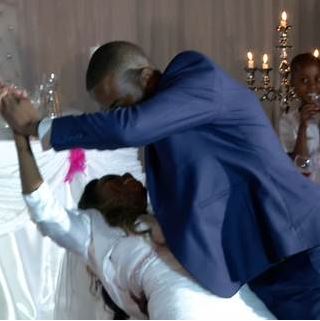 All in all, it was a perfect wedding – for the cousin/maid of honour! I hope she won't be as involved in their marriage.