New couple on the block
, AKA and Nadia Nakai are serving heat as they flaunt their romance every chance they get. AKA recently took to his Instagram stories to give his fans a glimpse of how much
he adores his bae
, and we admit, we love this couple!
Read more:
Nadia Cheated On Her Rapper Bae?

One thing about AKA, he will not shy away from bragging about the women he dates, Nadia is a catch!
AKA posted a sexy picture of Nadia Nakai and said she can take all of his coins! That might indicate that he is splurging on Nadia with expensive gifts and so much more. What a lucky lady.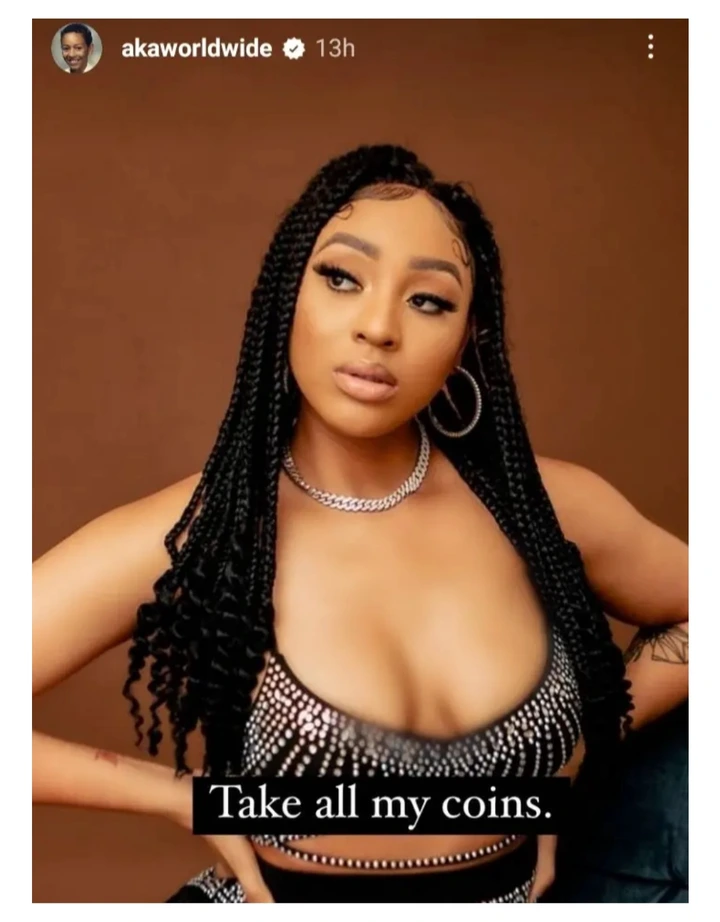 Mnay have speculated that Nadia might have involved herself in a love triangle, all thanks to her reality show,
Young, Famous and African.
People watching it might think Nadia is still dating Vic Mensa but could not wait for an entanglement with co-star Diamond Platnumz.
However, the reality series was shot months ago while Nadia was still dating Vic Mensa and a lot of things happened in terms of her love life. Co-star Khanyi Mbau was trying to set up Nadia with the Tanzanian singer. But, he is still involved with his baby mama Zari The Boss Lady.
But, to make things interesting, Diamond was starting to fall for Nadia and even dedicated a song to her and also did a few cute things together. Although Nadia was dating Vic, she said she wanted to keep her options open.
But Nadia told
The South African
that she and Diamond are better off as friends, "Honestly he is an amazing guy, very sweet, very respectful and I respect everything that he's accomplished. However, I think that he and I would be best as friends."
We still can't help but wonder if AKA is the reason Nadia and Cassper broke up as friends. It is because she made an appearance on The Braai Show With AKA which ultimately lead to her friendship with Cassper ending.
"After I did the Braai Show we didn't speak for like eight months so I got so used to not talking to him much," she said. "It was a decision I made for myself because I felt like I wanted to expand myself. I think people just felt like I automatically inherited things he (Cassper) is going through and that kinda trickled down to me and would affect me as well. Even though he is my brother and I'll always support him and have his back, I felt like I needed to open up myself a little bit more because I need to be seen as someone who is platonic."
Image credit: Instagram