Elated at the great news, we asked the radio personality where and when the two met.
" I first met my fiance' Socrates Georgiades (DJ Sox) in May 2012 we've been together for almost three years now."
Bailey has kept her engagement a secret for almost a month now, but with everything confirmed, she gave ZAlebs a detailed story of how her fiancé proposed.
"We got engaged on the 13th of April 2015. I had absolutely no idea whatsoever. I mean, who proposes on a Monday afternoon? He caught me completely by surprise. It was also special because his lucky number is 13 and my lucky number is four, and if you look at the date, it is: 13.04. It wasn't planned, but Sox is claiming it!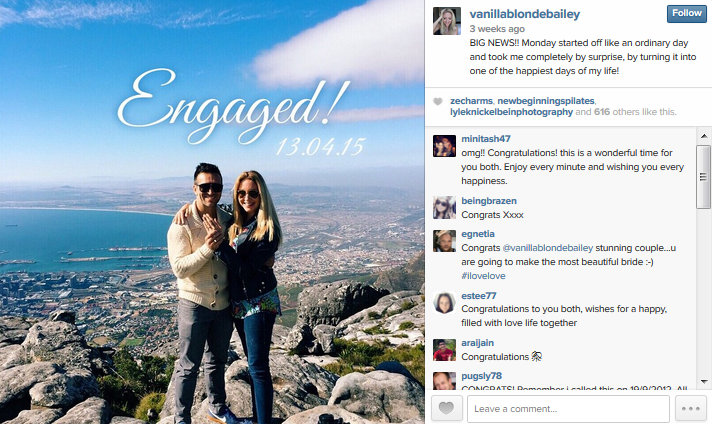 My parents were visiting us in Cape Town for Greek Easter. That Monday, I went to work on Expresso show and 2Oceansvibe radio and after work, we were going to head up to Table Mountain, as my dad has never been up. My mom, dad, Sox and I went up via the cable car. In hindsight, there were so many little clues that could have given it away, but I just wasn't expecting anything other than a fun excursion."
Were there any clues that he was going to propose?
"He kept fiddling with his pocket. My thoughts were: "If his car key is bugging him so much, he should just move it." and when my mom suggested we sit down to eat something, he acted really strangely in trying to dissuade her from sitting down or taking time to eat. As my parents were walking along looking at the view, Sox suggested that we go the other way and meet up with them. We headed to one of my favourite parts of Table Mountain, where the view is just magnificent. We had come up on one of our first dates and it was also at that moment, when I was looking out at the breathtaking view, that I knew I wanted to make Cape Town my new home.
He made another strange comment about there being so many tourists. I laughed and said: "This is Table Mountain. What do you expect?"
We started reminiscing and chatting about life and love and all of a sudden he started saying, with a big mischievous grin:
You know I'm going to irritate you for the rest of your life, right?" and I started laughing saying: "No, no no… I'm not signing up for that!"
His face faltered a little, which is unusual when we are joking around.
I started laughing and told him I was kidding. He then started saying the most beautiful things that I will treasure forever and in my head I was thinking a trillion thoughts a second:
Wait. Hang on a second. Is this…? Is this what I think it is? Oh my God! It is!!!! Bailey! Concentrate on what he's saying! It's happening NOW! Oh my God!!!!
Before I knew it, he was down on one knee and his hand was in the pocket he'd been fidgeting in and pulled out my beautiful engagement ring.
I was so stunned and just kept trying to focus on him, but I remember hearing a tourist in the background gasp so loudly and say: "Oh Look!" as they obviously saw what was happening.
All I could answer was: "Are you serious?" a few times over and eventually he packed up laughing and said: "No, I'm joking. I'm taking the ring back!"
I just started saying: "Oh my God! Yes!" and that's when he slipped it onto my finger!
There was tears and laughter and for the first time ever, I was completely speechless and stunned.
Are you excited to start planning the wedding and do you have a date in mind yet?
I am so excited to start planning. I am not one of those girls who has the whole "Wedding File" on standby. I definitely don't have it all figured out, all I know is that Sox and I want to have a wedding that is us! It will be something that represents who we are as a couple and we really want to celebrate that. We don't have a date just yet, but we're thinking of either November 2015 or February 2016 depending on our work schedules.
Congratulations to the couple. We cannot wait for our invitation!