YouTuber and reality TV star Lasizwe
delivered again this Friday. His guest on Drink Or Tell The Truth this week was
Nadia Nakai.
Read More:
Nadia Breaks The Web
Nadia revealed that
her relationship with Vic Mensa
is over, this after Lasizwe asked her:
"Between Bandile (Major League twin) and Vic Mensa who would you have kids with)"
Nadia said Vic Mensa. One of the crew members is then heard in the background asking how long they have been dating.
Nadia
responded:
"Well we kinda broke up so it doesn't matter, It's fine, we broke up."

It may have ended in tears but we can all agree that the pair served the best couple goals on the internet the past few months.
Nadia also spilled the beans on how
Riky Rick
has disappointed her. She said he did not show up at her Naked Room shoot.
"I can tell you who let me down, Ricky Rick! Boss Zonke let me down, we were shooting the naked room, he was supposed to come to shoot. He literally canceled when he was supposed to arrive. I had a client on set, I had my face done..."
she said.
She said she had to pack up and let everyone know that Riky was not coming anymore.
Meanwhile, this is a second split Nadia has publicly spoken about this year. In July she announced her split with
Cassper's record Label 'Family Tree'
on Slikour Onlife.
She said she is now her own boss,
"I am no longer with The Tree. I am working on my own record label. I need to be able to stand on my own. Funny enough, I was actually scared to tell Cass. Even after I told him, I could feel that he was a bit sad, but we are good.

"He even suggested a few record label names for me to use... I will always hold Cass in the highest regard and respect because he's been very instrumental in my career and my life. I want to be able to get to a point where even when I have kids, I can still work on an artist and actively build their brand. I am a little bit scared but also super excited."
Nadia said things started getting sour between her and
Cassper
after she made an appearance on
The Braai Show With AKA.

"After I did the Braai Show we didn't speak for like eight months so I got so used to not talking to him much,"
she said.
Speaking about her appearance on The Braai show, she said:
"It was a decision I made for myself because I felt like I wanted to expand myself. I think people just felt like I automatically inherited things he (Cassper) is going through and that kinda trickled down to me and would affect me as well. Even though he is my brother and I'll always support him and have his back, I felt like I needed to open up myself a little bit more because I need to be seen as someone who is platonic."
However we believe that things are okay between Cassper and Nadia because when Lasizwe asked her on the show:
"AKA or Cassper?"
Nadia chose Cassper, she said:
"I have to say Refiloe actually at this point...Cassper is my brother."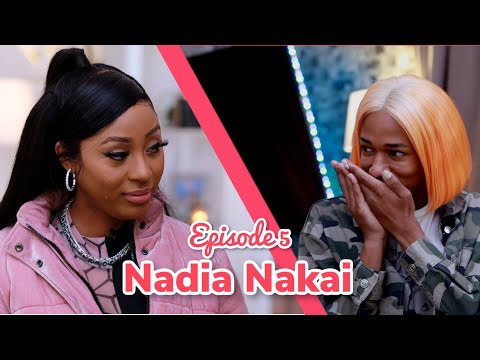 Read Next:
Inno Exposes Sammy Sosa
Image Cred: Instagram