A tweet which encourages lovers to rekindle their relationships gained
Thando Thabethe's
support as she strongly recommends it. The media personality had gotten back with
her former lover Lunga Shabalala
and she has never been happier.
Read more:
Lunga Distances Himself From Thando's New Relationship

The actress and her handsome actor boyfriend Lunga Shabalala had dated before even though they never really confirmed it. The pair's split became evident when Thando flaunted her relationship with
businessman Jaji Abolore
who owns a famous Sandton night club. The two spent
Valentine's Day
together but they also had dated before.
They stopped posting each other for a brief moment until they started posting each other again. When Thando flaunted her love with Jaji, Lunga got furious but not because of jealousy, but because people could not stop involving him in Thando's affairs.
A publication claimed that Lunga got jealous and was appalled that Thando had gotten back together with Jaji. He apparently wanted to get back with her, after he got dumped for the businessman. Pouring cold water to these claims, Lunga slammed the tweet and asked for his name to be taken off from the article. Slamming the fake news, Lunga commented
"This is the nonsense that I won't tolerate, There's no need for my name to be mentioned in this article full of inaccuracies. For everyone's sake remove any mention of my name,"
he said as quoted by
OkMzansi.
Now, Thando is back again with her
ex Lunga Shabalala
, who she kept on claiming to bump into him from time to time.
Lunga was the one to drop the bombshell when he posted pictures of them together on a baecation for Thando's 31st birthday.
The couple enjoyed a nice vacation in Cape Town.
He also spent his birthday with Thando which sort of connected the dots.
On Twitter, Thando supported a tweet which encouraged people to go back to their exes as it is highly recommended.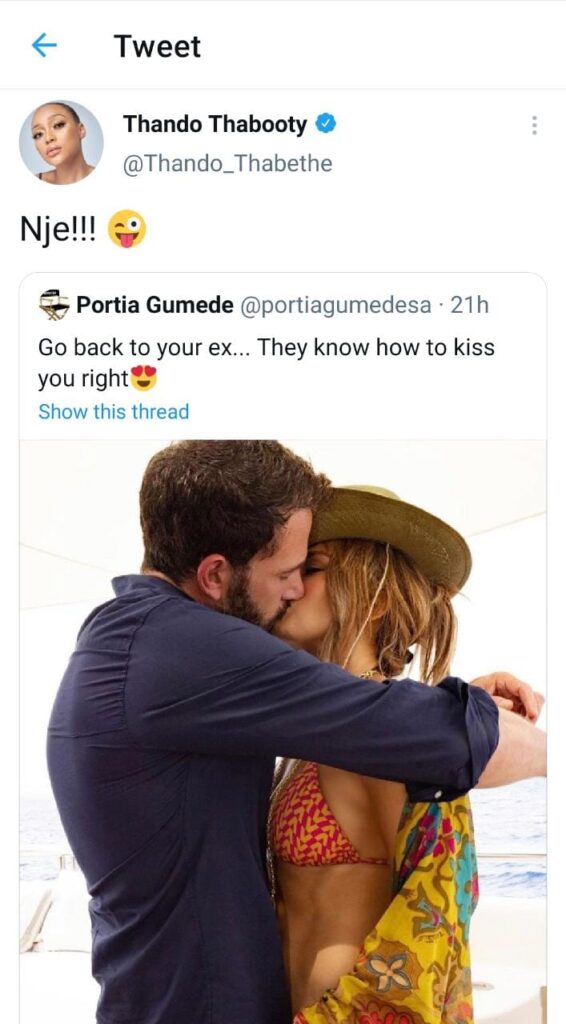 The 947 radio presenter
recently battled COVID-19 and was isolating which left her feeling very lonely.
"Today marks day 10 of my self-isolation after testing positive for COVID -19. I never imagined the emotional rollercoaster that I experienced. I never imagined quarantining fir 10 days in a hotel all by myself, just me, no work to rush to, no one to help me with meds, or friends to give me a hug, just me & my thoughts!"
"There were nights I'd go to bed hoping I'd wake in the morning, I thank God for the ability to do radio while here, and the incredible staff here who safely took such amazing care of me. As I leave tomorrow I can't help but be anxious about the reality I am now walking back into. It's all so very scary, but today I am grateful for the gift of life."


Read next:
Zola 7 Is Very Much Alive
Picture credit: Instagram