I was a little nervous when I picked up the phone to call Boity this morning. I mean, how exactly does one initiate a conversation in these circumstances? "Hey, so, I saw your bum. So did most of Twitter. You're pretty." No, of course not, that'd be creepy and weird. It felt like High School all over again! After accidentally dropping the phone when she first answered (Read, "Accidentally") we got to chatting and she was calm, down to earth and as relaxed as she ever is. It's not as if her name had been trending on Twitter for close to two days now. I ask what is Boity's reaction to #BoityReaction.
Tomorrow's date will 1 A.B. (After Boity). Hallelur #BoityReaction pic.twitter.com/r3u7cBX77W

— Joe Black (@joeblackzw) February 17, 2014
"It's been very interesting situation but to be honest, I'm very indifferent about it. I just hope that the reason why I did it is not lost in all the excitement. I hope that part of the attention goes to the Lunchbox Fund Charity Organisation, which was the intention of the Marie Claire issue. I'm glad that the campaign is getting a lot of attention as long as it goes to the actual cause. As for the hashtag, I'm indifferent. It's all very funny, the pictures are hilarious. "
It's worth noting that while #BoityReaction was at the top of the trending list for hours, Marie Claire was a very close second. The picture of Boity may be the highlight, but the Magazine's campaign hasn't been lost. I ask if she's happy to be contributing to the success of Marie Claire's Naked Issue.
"Yeah I'm glad that this whole reaction happened and Marie Claire will have had something good come out of something funny (#BoityReaction I'm assuming is the 'Something funny') I'm just glad that they're getting the publicity out of it, it was the point. I didn't expect my part to be this big but the fact that it is is only good for the magazine."
We've seen some of Mzansi's other stars posing nude. Catherine Grenfell and Zama Dube share the image with Boity, while Slikour and Proverb have their own hilarious nudes on show. I comment that it looks like it was a fun shoot, made all the more admirable by the good cause behind it, but I'm curious as to who she thinks came out best.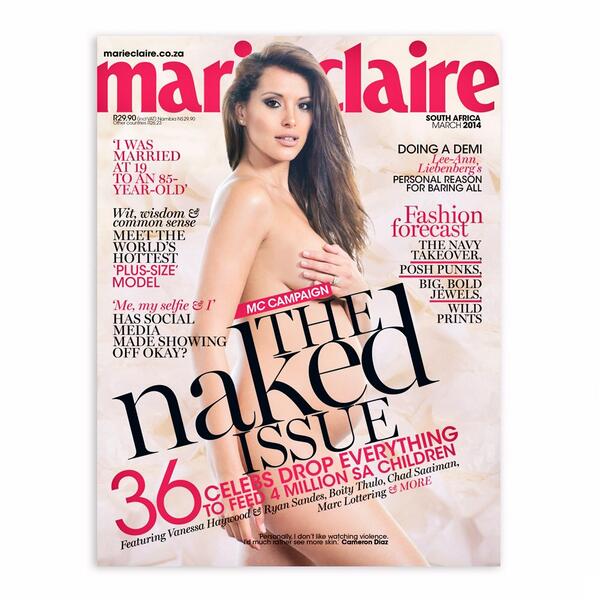 "I really love Lee-Ann Liebenberg's picture. She's on the cover and she's snapped in the issue too. She looks flawless. There's nothing more beautiful than a mother and child's bond, and the fact that she bared herself and her unborn baby is beautiful."
I couldn't let Boity leave without asking one final question- and no it had nothing to do with twerking. Coming from a black family, I know that the one person who's reaction I'd fear the most if I did such a bold thing as pose naked in a magazine, is that of my mother. I gently ask "What did your mother say" hoping for some amusing, but ultimately supportive, answer.
"My Mother? She understood that it was for charity. She knew that I was planning on being a part of the shoot and she was looking forward to it. When the pictures came out she commented that they came out well and that she liked them. She was on board with the whole thing."
One thing I have to say is that, aside from having a fabulous body, Boity is a very good sport and we thank her for taking the time to chat with us!