The popular DJ
and his foundation SHIMUZIC have partnered with The Kolisi Foundation to raise funds for those negatively affected by COVID-19, as well as Robben Island.
ZAlebs caught up with Shimza to find out more about his latest initiative and more about his philanthropist ways.


Springbok captain Siya Kolisi's
foundation, The Kolisi Foundation throughout the lockdown has been hard at work giving back to those in need around South Africa and now the foundation has teamed up with Shimza's foundation to do more ground-breaking work.
Shimza explains that
Siya'
s has built himself after having grown up with little and made it his mission to give back and that resonates with him.
"Since before COVID hit, Siya Kolisi and his foundation have been very active in giving back to the community at large and not only in the Western Cape but around South Africa. They have been doing a lot of work on the ground by donating food parcels and other necessities, as well as individuals who are dealing with adverse issues in their day to day lives," says Shimza.


The DJ's foundation has always focused on the youth and in the past through proceeds of One Man Show has been able to donate items such as school shoes to children in need.


"I form part of the youth and with my platform and my following being predominantly youth I want to be able to shape their future and assist where I can in a positive way," says the DJ of his foundation.


Shimza
hopes that through his foundation he can "instil a culture of giving."
"I would like to build my foundation and eventually reach more people than I currently am in the next five years," adds Shimza.


His annual One Man Show, which started in 2011, has not only been a way to give back to those in need but a source of much fun. If you have ever attended one of his show's one thing is for sure you were probably dancing from the moment it started till the moment it sadly ended.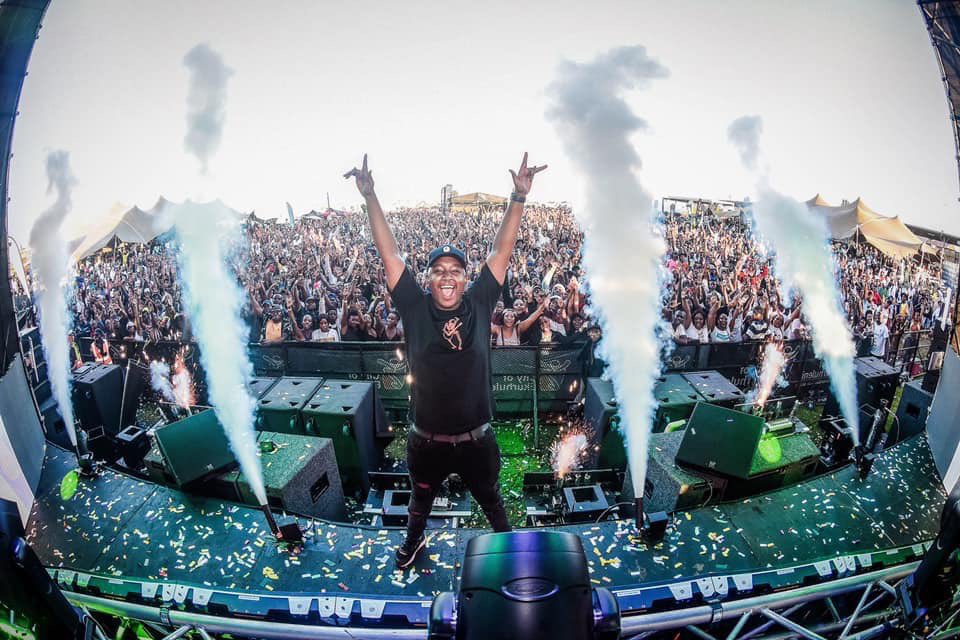 "The people's support has carried me through all my events with the numbers growing exponentially every year," says Shimza.


Putting together an event of the
One Man Show
magnitude comes with its set of challenges but Shimza says he always tries to make way for him to succeed in everything he does.
"I strongly believe I stopped expecting a No as an answer and started focusing on showing them why they should say yes," Shimza tells ZAlebs.


Whilst there have been hardships it is also impossible to ignore the highlights, 12 years of a successful run of an event is no pap n vleis and Shimza says that One Man Show's growth and longevity is a highlight for him.


"Another one of my highlights is the ability to give back, through my one man show in Soweto, I host workshops for upcoming musicians and entrepreneurs and get a panel from different spheres in the entertainment industry to educate and give aspiring youth information from people that are already in the industry.
With my one man show in Tembisa, I host a Christmas party for orphaned children and assist them with school essentials every year."
This year due to the COVID-19 pandemic, Shimza has not been able to host his One Man Show in its traditional sense with the big venue and with thousands of fans rocking live to his tunes but he has adapted to the new normal of hosting his event online to virtual viewers.
On June 16 (Youth Day), Shimza hosted the
One Man Show Lockdown edition
at the Nelson Mandela statue at the Union Buildings and raised funds towards the COVID-19 Solidarity Fund and the Nelson Mandela foundation Each One Feed One fund and now he takes on Robben Island to raise funds for the Kolisi Foundation.
Shimza says he has "chosen these locations not based on political stance but more so highlighting and showcasing the beauty of our country".


"These landmarks have shaped our history, so I feel it is important to educate the youth in a more relatable way," says Shimza.


It is hard to ignore the effects that Mzansi's political land frame has had on the country and its individuals.


The DJ says the country's political land frame has enabled him to reach for his dreams "without the hindrance of past sanction".


"These are the things that I'm grateful for as I can go about my day to day plans and reach for greater heights because the opportunity is given to us," he adds.



COVID-19 has forced many plans to change, Shimza, for instance, had it not been for the pandemic would be in Europe trying to crack the market, but Cory V had other plans but not all is lost.


When the dust finally settles and movement is finally allowed again, Shimza is looking forward to continuing his international travels.


"My plan is to focus on being overseas during off-peak seasons, where it is winter in South Africa and Summer in Europe."


Shimza is a good example of when life gives you lemons, make lemonade, as during the lockdown he has launched the successful
Lockdown house party
with DJ PH, which first began online and later bagged a spot on the popular music channel, Channel O.
The DJ says he "did not expect the great response from the audience and (for the show to) reach the level of success it has."


He says the project is one, he is most proud and being executive producer of the show just indicates growth in his career.


"It has inspired me to think out the box and come up with a new tv broadcast show, called Cover That which is a platform for unearthing raw singing talent," he shares.


When it comes to his
Mandela Day
set, Shimza says it will be "a combination of local and international artists", he also has used one of Nelson Mandela addresses in the beginning of his set.
"Most of the songs are unreleased but will have a sense of deep-rooted culture and African rhythm." The historic One Man Show will be broadcast on MTV Base South on Mandela Day from 16:00 - 18:00.

Image credit: Stills By Tom