ZAlebs recently caught up with the multi-talented actor, who has won the hearts of many with his enthralling performances on the show, as he share deets on his role and rise to stardom.
The who actor hails from the dusty streets of
Tembisa
, at Winnie Mandela Zone 2 says he was raised by his mom, with his little sister, his younger brother, and his niece.
Sicelo
says his father died when he was seven and growing up in
Tembisa
was an eye-opener experience. The actor says his character in
Gomora
is inspired by his upbringing.
"Growing up in Tembisa was very interesting, the character that I am portraying now mainly is inspired by my upbringing. Most of the things that I say or portray there, are basically things that I have seen or experienced," he adds.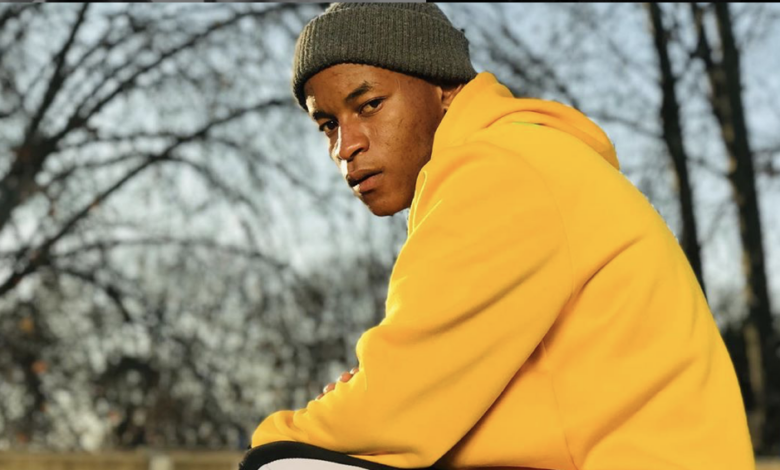 The thespian says growing up he always saw himself on TV.
Sicelo
says he initially aimed at carving a career in football, until he took a liking and passion to the world of entertainment.
"It's crazy because I have always seen myself as a soccer player, while I grew up I saw myself as a TV personality, so in my mind I would play soccer and be on TV."

"Growing up I used to look up to Msawawa, I've always seen me in him, my career in TV was inspired by the likes of Mxolisi Masilela, Oupa Malatjie the theater gurus from Tembisa," he adds
He says his career in theater acting kicked off in 2015, and when he completed his matric in 2017 at Inqayizivela High school, he decided to train as an actor and a live performer for 2 years at the
Market Theater.
The actor who portrays the fan-favorite character of
Teddy in Gomora
says he landed the role after his then lecturer advised him to audition after seeing a post of the show's open auditions.
" I was like it's fine let me go and try it out, but I'm not sure about these open auditions so I got there I auditioned and had a callback and after my third call back that is when I started taking it seriously and I said maybe there might be something here and after that that's how I got the role," he explains.
He says his rise to stardom was smooth sailing because he had no breaks in between.
"Its like God knew that this was gonna happen that immediately after graduating you will go to work and no time to wait and break."
When asked about how is he different from Teddy he says.
"Teddy is pure ghetto but I am in between, so with him I get to enjoy the ghetto side of me, i get to be the actual Kasi Boy and with Sicelo I can balance between that and also his intellectual capacity."
"It's like when Kutlwano decided to cast us, he knew what was happening. The energy we had from the first day, it's like we knew what we were doing. It's like we knew our characters 3 years back and now it's the time to portray them, so working with her it was god given."

"The main thing I have learned from the Market Theater is playing and not being very professional, strict about your line, but just the idea of playing that's the thing that we have, we play a lot, even before the director calls action, we have already established what we are going to being," he explains.
"A lot of people resonate with Teddy because he is young and he is kid that is why kids enjoy seeing this person who portrays this person who is holding a mirror they see themselves in."
Speaking about what avid watchers of the show can expect moving forward from his character he says,
"People can expect the darker side of him and not saying he is going to be a bad boy but the saddest part of his life is about to come out right now and more heartbreaking moments. It's not gonna be the usual funny guy anymore it's gonna be very very sad," he says
"That for me means that my work is being recognized and there is more to come and I am glad that people notice my hard work, immediately on my debut, so for me it means a lot it means that there is recognition in SA."

Outstanding Newcomer Nominees

They've just burst onto the scene are already stand out as a face to remember.

Who's taking the RSA statuette home?#RSA20 pic.twitter.com/EjDakCBMkQ

— Royalty Soapie Awards 2020 (@SoapieAwards) August 26, 2020
The actor says he believes one can make a career out of TV acting, but it depends on what narrative you come to the industry for.
"You just need to not come with the perspective that you want money you need to have the love for the work after you have the love for the work put in the work, be committed."
Sicelo and Ntobeko Sishi
's bromance has many on envy mode. The two have become Mzansi's favorite on-screen duo, the actor says they have become friends even in real life.

"We chill a lot together, we talk a lot and talk about our personal issues or personal stuff, and that for me is like creating chemistry even after work and when we have to do the work its easy for us to gel on screen."
He says his character teaches Mzansi that life is very unpredictable.
"That life can be very unpredictable, one day you are this person one day you are that person and do not just assume that because this one is comes from this household they gonna be a better person one day they might work for you."
Sicelo
says he still lives in Tembisa and he wants to eradicate the perspective that if you are a celebrity you cannot stay in the location.
"I stay in Tembisa i don't think I'm gonna leave anytime soon, That's the typical perspective I want to get rid of that just because I am on TV I need to move nah, I cam still be the same person, I'm just a typical 9-5 person just that at my work there are cameras and you happen to watch me at 07:30 pm every week days," he elaborates.

The 21 year old says he is off the market and he says his female admirers can console themselves.


"They can eat their heart out shem, I'am unavailable."


Sicelo
has also slammed a report that he is 35 years old following an article falsely claiming that he is 35 years old.
"I'm not 35 this things gets into me but I;m just like if you think that way then okay, but why don't people ask?"

Image Credit: Elegance 7