It looks like Heavy K had a date with destiny on Sunday night, after a cancelled flight resulted in a chance encounter with a local legend.
The DJ and producer met composer Mbongeni Ngema after his day did not go as planned.
It all started when Heavy K's flight to Johannesburg got cancelled.
"I asked myself why? But then again I answered myself by saying God knows why & he will show me why he didn't want me to go!" he said on Instagram.
But little did he know something big was about to happen.
"After [a] few hours the legendary Mbongeni Ngema walked in just where I was chilling, the whole time stressed about missing out the show I had last night!! I was nervous, I didn't know where to start or how to approach him. But fortunate enough he knows some of my records so when I asked him to collaborate with me! He just looked at me & smiled then he said, "yes we can son, I enjoy working with young artists". All we have to do is to work on a concept of the song," he captioned a picture with the music legend.
And it looks like Mbongeni is keen to work with Heavy K. He commented on the post: "I know some of his songs. Surely we can try something new with him…We have to check good timing because I'm busy with [a] movie at the moment."
Talk about the stars aligning! 
Read: Heavy K loses his mother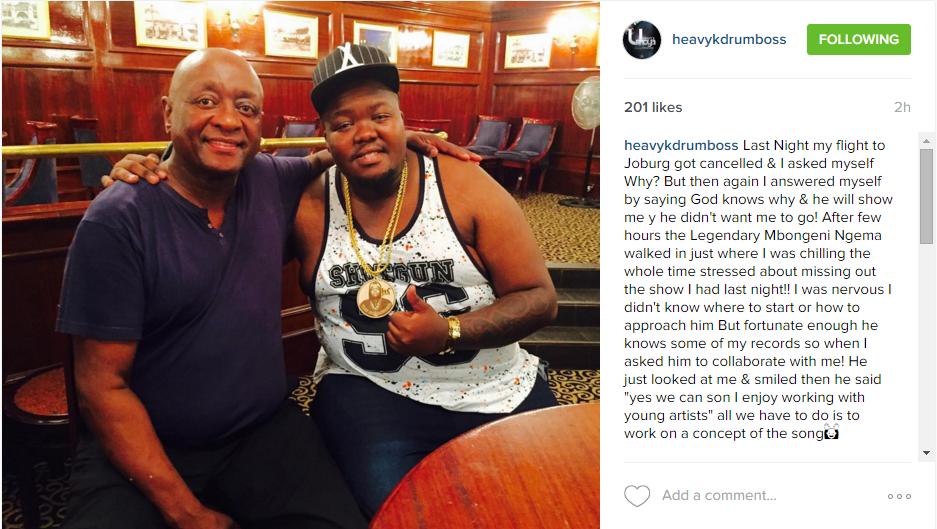 Image credit: Instagram/heavykdrumboss