In a booklet of her life journey,
Kuli
is remembered as a Journalist, a passionate philanthropist, an activist, a sporadic businesswoman, and an author.
"She was liked and disliked in an equal measure, feared and admired by friends and foes and boon and bane for business. She could either be cold coal or a shinning diamond. Hang on to her, and you reached the stars, betray her trust and meet the bottom head-first," the booklet revealed.
Other celebrities including actress
Nambitha Ben-Mazwi
, Refilwe Modiselle, Skhumba Hlophe, and many more spoke at the memorial service. Watch the full service below.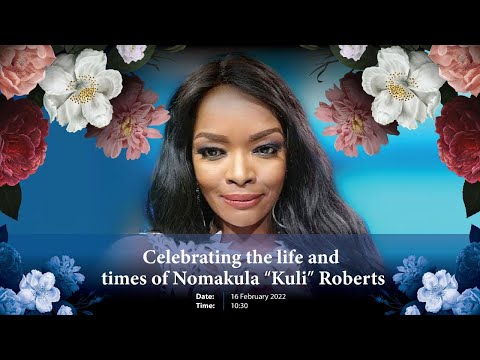 Kuli passed away last week after she reportedly suffered a seizure. Her family released a statement sharing the sad news also sharing that she is leaving behind her two children, her parents, three siblings, and her grandchild.
"She sadly passed away late last night (10th February) in Johannesburg. Affectionately known and loved by her friends, family, and the South African entertainment industry at large, Kuli Roberts was an all-around media personality who was always the life of any gathering.
"We humbly request that you respect our need for privacy, as we go through this difficult period of grieving and healing. We ask that you please keep us in our prayers," the statement read.
Kuli's friend Nyaniso Bengu who couldn't make it to the podium today at her memorial service told
TshisaLive
about what happened the day Kuli passed away.
"She called me when she got to the studio. They started doing her makeup and she said, 'talk to you later."
He added that he later received another call informing him that Kuli was having a seizure, and he then rushed to the scene with one of Kuli's family members.
"I asked: 'what do you mean? Because she was fine. She doesn't have any condition.' I told them I was on my way but they told me not to panic because the paramedics have it all under control."
"As we walked in I could already see there was a cloth on the floor and they broke the news to us that they had tried to resuscitate her," the publication quoted him.
Meanwhile, the late Media Personality has made it clear that she does not want to be remembered.
"I don't want to be remembered. I want you guys to just look after each other. I want you to look out for the people that are downtrodden and are still downtrodden. I need you to look after people with albinism, I want you to look after the people in the LGBTQI community, I need you to look after black people, I need you to stop insulting black people and saying 'black people can't swim', because remember we were the ones saving the sailors when we were settling on this continent. So I need you to please uplift black people. Love yourself, and Ubuntu," Kuli said during his interview with
Mac G on Podcast and Chill
,