YouTuber, Lasizwe just launched his truth or dare series and it kicked off to the best of starts. The guest on the first episode was none other than television actress
Ntando Duma
and we're sure many would agree when we say that the episode was lit.
Lasizwe first asked Ntando about
the sex tape that was leaked in 2020
of a woman many thought was her.
"Oh, no man. No, it's not true. That wasn't me. Also, my sex tape would be fire hey. Put some respect on my name. And I'm sorry they had to leak that sex tape. I also don't do sex tapes,"
responded the actress.
Lasizwe
chickened out of the first episode which was about who is his least favourite from all his siblings. Duma was then asked who she would choose to spend the rest of her life with between
Seekay from Gomora
and her baby daddy Junior and she chose her baby daddy junior. She also confirmed that she is in a relationship and is very much in love with her boyfriend.
Lasizwe was asked by Ntando whom he would prefer to have a one night stand with between Maps,
Lunga Shabalala
and Vusi Nova. He opted for
Vusi Nova
. His reason was that he doesn't like men who have hair. Ntando said, "
Vusi, you must watch this episode. Shooting your shot."

The two then got to the more juicer stuff and Ntando revealed what her worst television scene was and let's just say someone might not be happy with her response. "My worst scene will always be kissing a man on the show. It's very uncomfortable kissing someone that you don't know on the show that you don't have an actual relationship with. So all the scenes I have done with Schumacher were very uncomfortable. But he is such a nice guy. He is such a great actor. He made it very easy for me. Genuinely I hate those scenes."
She also revealed that her first kissing scene on
Rhythm City
with
Phila Mazibuko
and she didn't enjoy that experience.
"To kiss someone, you don't know for the first time, you don't know where they come from. For what? It was the worst."

Lasizwe also took it to where nobody thought he would. He asked her about her fallen friendship with Natasha Thahane. "Back in the day you and Natasha were close friends. Why are you guys not friends anymore?"
The Queen Mzansi
actress was reluctant to give a straight answer and kept on going in circles. Many could see on her face that she wasn't excited to hear her name.

Lastly, Lasziwe was asked if is dating Dominique Khumalo or not. Lasizwe screamed out loud, got up from his seat and left the set of his show. He returned and said that they are just good friends. Do you believe him?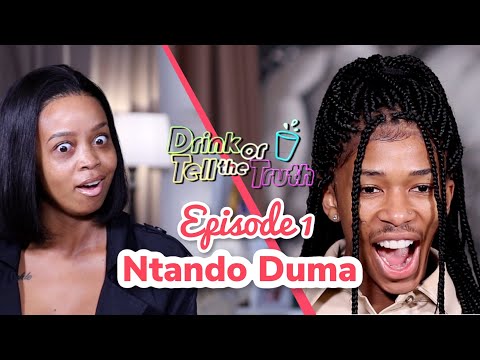 Read Next:
Lasizwe Joins The Taxi Industry
Main Picture Credit: YouTube