Raphael brought us hits like Anniversary, Dance Tonight, and now he is bringing all his hits to you live at BET Experience Africa.
With nearly three decades of experience under his belt, Raphael has earned himself legendary status.
You can catch him live at BET Experience Africa on 12 December 2015, alongside Tamar Braxton, Maxwell, Young Thug, AKA, and many more performers.
Read: AKA, Nathi join BET line-up 
The basics…
Full name: born Charles Ray Wiggins 
Birthday: 14 May 1966
Place of birth: California, USA
What does he do? Singer, songwriter and record producer 
So, who is Raphael?
The Grammy award winner got his first taste of fame when he made his debut as a member of the group Tony! Toni! Toné! in 1988. His brother Dwayne Wiggins and cousin Timothy Christian Riley completed the hit trio.
Tony! Toni! Toné! released several hit tracks and four albums, including Sons of Soul in 1993, which went double platinum. He used the stage name Raphael Wiggins, and would later drop the Wiggins in favour of Saadiq.
Raphael recorded his last album with the group in 1996. He went on to form the group Lucy Pearl, with DJ Ali Shaheed Muhammad and En Vogue's Dawn Robinson. D'Angelo was originally meant to be part of the group, but could not commit to the band's schedule. Dawn also left the group after recording a few singles, and was replaced by R&B singer Joi. Despite being nominated for a Grammy award in 2000, Lucy Pearl called it quits after just one album.
Two years later, Raphael would start his own record label, Pookie Entertainment. He recorded his first solo album, Instant Vintage, under the label. The offering earned him five Grammy nominations. Raphael has recorded four solo albums and collaborated with a number of musicians including Mary J Blige, Snoop Dogg, John Legend, Angie Stone, Stevie Wonder, and Whitney Houston.
What Raphael has said…
On the Kendrick Lamar movement (Billboard magazine): "I think Kendrick helps [boost R&B's mainstream status] a lot more than everybody because he's talking about things happening in our community now. It's real, poetic; it's introducing people to a neighbourhood again of regular, actual people."

About his name change (Contact Music): "Nobody ever called me Charles anyway. When you were in grade school and people would call you 'Charlie', you would be associated with 'Charlie Brown' so you would get away from it. When I was older, everybody would call me 'Ray'. The 'Raphael' thing came when I played with Sheila E and I changed my surname to 'Saadiq' for my first solo album. I changed it because Wiggins didn't sound like a singer's name and Saadiq meant 'man of his word' in Arabic." 

The weirdest thing he has seen while on stage (laist): "It's always weird when you look out into the crowd, and there's this tall guy in the middle of it not moving. Everyone around him is partying, you know, getting down, but he just doesn't move. He's just trying to make your life hard."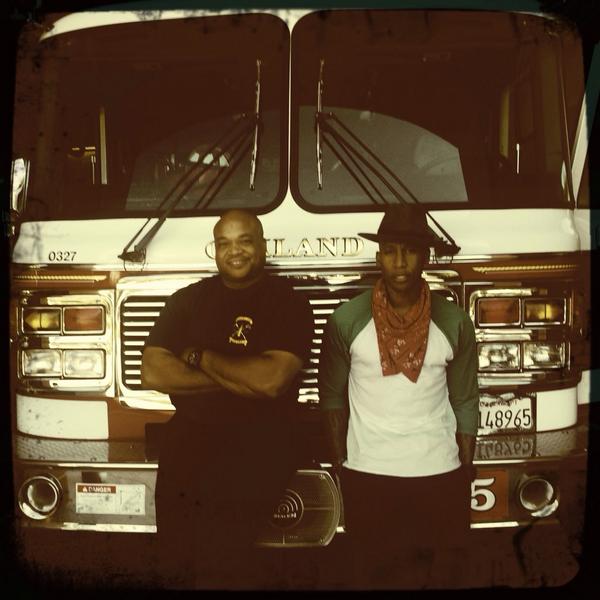 (Raphael and his best friend Sean Gascie. They grew up in Oakland, California. Image credit: Twitter/Raphael Saadiq)
Subscribe to the ZAlebs YouTube channel right here!

Image credit: Twitter/Raphael Saadiq