Last month we saw the likes of Pabi Moloi taking over Trace Sports Stars, and now in the month of April, guest presenter Roxy Burger introduces a new and enlightening angle to the show that focuses on peace and tolerance amongst each other. 
ZAlebs had a chat with the television personality to hear more about her role in the show, and what it has taught her so far about living in South Africa.
For those who are not aware, what does Trace Sports Stars entail and what exactly is so special about this month's theme?
Trace Sports Stars is a merge between entertainment and sports, where they invite guest presenters to own the show for an entire month with a particular social subject in mind. In the month of April, we're focusing on peace, and with everything that's been happening lately with regards to the xenophobic attacks, the contents of the show have become quite apt. We've pre-recorded most of the episodes and it's actually quite a coincidence that all of these horrible things are happening whilst the show is promoting peace. I also think it's a really cool way for Trace Sports Stars to feature many different South African faces to support our sports industry and to simply communicate great messages.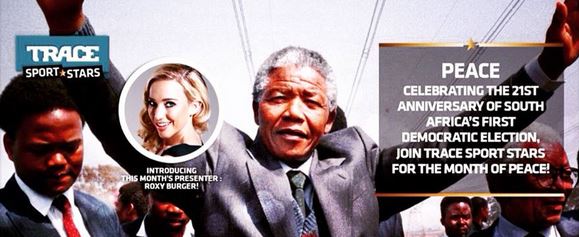 You speak so passionately about the contents of the show, do you have a specific episode that is dear to your heart?
"Definitely, we spoke a lot about Madiba and, obviously for South Africans, that's close to home and incredibly important. It's always important to uphold his legacy and the ongoings of these insidious xenophobic attacks is clearly not a reflection of what his legacy is about. I think he'd be incredibly disappointed, and that's why that particular episode was special to me. We spoke a lot about him in our links and democracy in South Africa and how he taught us about the importance of forgiveness and tolerance towards others. It's an ironic episode that everyone needs to watch."
Your favourite idols are the likes of Gwen Stefani and Sophia Amaroso. If you were given 15 seconds to convince them to watch Trace Sports Stars this month, what would you say?
"I would tell them to watch Trace Sports Stars because it's entertaining, yet at the same time we're sending out a really positive message about peace. It's also a great mechanism to get people to listen because sometimes there's so much digital noise and messages that the media is throwing at you that you sometimes don't even bother listening anymore. However, Trace Sports Stars is an entertaining way to keep people enthralled, keep people entertained and at the same time re-enforcing what this month stands for."
Catch the last episode of Trace Sports Stars peace month with Roxy Burger this Friday (27 April) on DStv Channel 188