Legendary South African actress Shaleen Surtie-Richards has achieved one of her long time dreams of losing weight.
Although she's noticeably slimmer than she was when we last saw her in local soapie Egoli, Shaleen's weight has been a constant battle but last year she decided enough was enough; she was going to shed those extra kilos for the sake of her health.
She's diabetic and is supposed to avoid sweet things but never did. Many people know Shaleen from her rich and colourful characters on South African television. But her hard work and years of entertaining us have taken its toll on her health - having been diagnosed with diabetes and suffering a stroke a few years ago.
In an interview with You Magazine, Shaleen admitted she had tried every diet under the sun. On one occasion she lost 22kg but put it all on again. The discipline required was too much for her, she said.
Your body looks amazing, what really made you decide to lose weight?
Thanks, when you get to my age; good health becomes one of the most important things in your life and being diabetic especially.
How many kilos have you lost?
I lost around about 22 kilos.
Please share your secret!
Trying to lose weight is never easy for anyone. Mine was very unhealthy; I had no eating plan and drank an appetite suppressant. It is bad but the results were good, I wouldn't want to promote such an unhealthy lifestyle. I hardly ate and only drank lots of soup and water.
How long did it take you?
I started out last year September or October. Dieting isn't the thing but maintenance is.
With the weight loss, comes a new wardrobe. Would you call yourself a trendsetter?
No, not really. I wear what I like. If I like something in Pep stores or Stuttafords or even China Mall for that matter, I'll buy it and wear it. I'm careful not to be mutton dressed as lamb (Laughs).
Best known for her role as Ester 'Nenna' Willemse in long-running drama series Egoli: Place of Gold, Shaleen has also been in Generations and 7de Laan, and she currently plays the role of Francene Jacobs in Villa Rosa.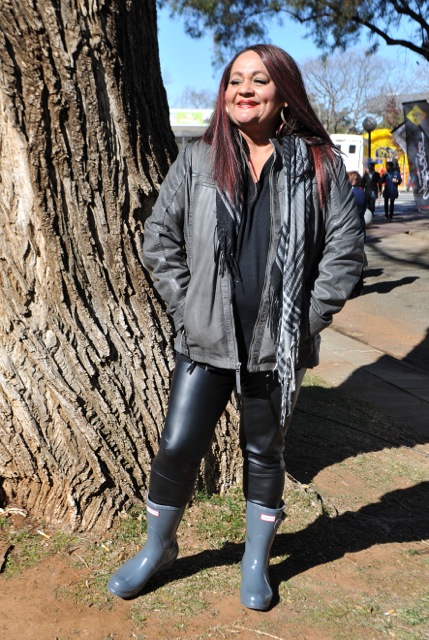 With Women's Day a week away, what is your opinion on women in the entertainment industry? Are women treated fairly?
I don't have issues; insecure women have issues on where they belong in this industry. I am not much of a talker about these things, I am a doer, and a woman's gotta do what a woman's gotta do. Our country is in trouble but I am not a politician, I am an actress so I focus on the people, especially women and children.
Shaleen lives by the saying – what you see is what you get.
In an interview with Get It Magazine (Joburg), Shaleen said: "In my life there is no time for pretending or compromising.  It's all or nothing. I believe in being true to myself, and not to act out of character in the company of others."
Great advice to live by as we celebrate the women of South Africa.
Pictures: Devenish Photography
Journalist Siphelele Buthelezi is fascinated with Le good life, enjoys SA and international entertainment and fashion.