ZAlebs is taking a look back at some of the top stories of 2015.

There were celeb break-ups, deaths, and, of course, no year is complete without a nude scandal.

These top stories not only made headlines across the country, but were the most read stories on ZAlebs.
Some of them may surprise you!
Pastor Zondo's nudes go viral
Now there's a headline we bet you didn't think you'd see in 2015 – a pastor caught with his pants down! 2015 got off to a spicy start when a video of Pastor Zondo, and his manhood, went viral. The video showed Pastor Zondo, who was also a motivational speaker for Ukhozi FM, completely nude as he walked around his home. The footage seemed to have been shot by the woman he was seeing at the time. The SABC was forced to pull his motivational show, but he bounced back, and soon returned to the pulpit to cheers and applause from his congregation. We noticed a lot more women sitting in the front seats after seeing the video. *sips tea*
Is this girl obsessed with Cassper?
Mandisa Miya made headlines in 2015 when she took her obsession with Cassper Nyovest to crazy new levels. She changed her Facebook name to Mandisa kaCassper Nyovest Miya, and photoshopped herself next to the rapper in several pictures. It is clear all Mandisa's dogs are not barking, but who are we to throw shade over a girl's fantasy relationship, when we over here are dreaming about Vuyo Dabua?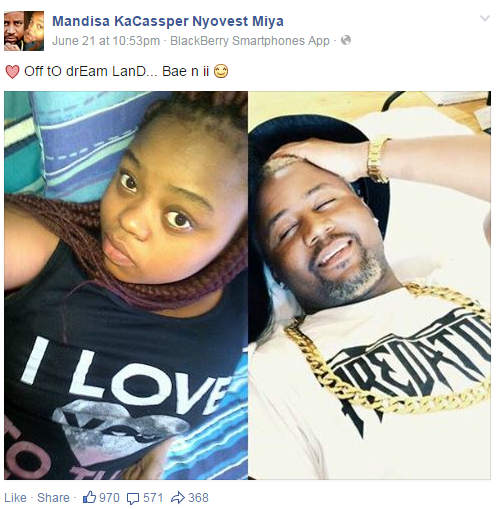 Zinhle and AKA separate
One of the biggest stories on ZAlebs.com was DJ Zinhle and AKA's break-up. One month after welcoming daughter Kairo into the world, and a few months after confirming they were even dating, the couple went their separate ways. As if that wasn't bad enough, Zinhle revealed that AKA has been cheating on her with TV personality Bonang Matheba – a claim she denies. The "are they or aren't they" question still hangs over AKA and Bonang, so we expect these two to make even bigger headlines in 2016.
Muvhango
ZAlebs readers are huge Muvhango fans! Anything Muvhango related got major clicks and feedback on social media. Major stars getting the boot caused a frenzy on Twitter, with some fans crying foul. Tryphina's antics on the show also had fans reeling or amused.
Read: #Muvhango: Tryphina is getting out of hand 
Read: Simphiwe Ngema on leaving Muvhango 
Celebs and their baes
Romance was in the air in 2015 and some of our favourite Mzansi stars were involved in serious hook-ups this year. Actress Amanda du-Pont teased fans for months about who her man was, and even gave us a glimpse of his ear once. But Amanda could no longer hide her love, and started posting pictures of her boo, Shawn Rodrigues, in November. We are still waiting on Pearl Thusi and Minnie Dlamini to reveal their mystery baes! They are keeping the men in their life a secret, but have no problem teasing us on social media. Reality stars Blue Mbombo and K2 remain a hit with ZAlebs readers, and readers can't get enough of the pair.
Little Angela from Generations is all grown up
Phew, time flies so fast! Generations fans were thrilled to get an update on little Angela Mogale. Child star Dineo Nchabeleng is all grown up and is a single mother. She is also set to star in a new romantic comedy, Dream World, next year.  Her former on-screen brother, Wright Ngubeni, made a TV comeback this year. Check out what he has been up to.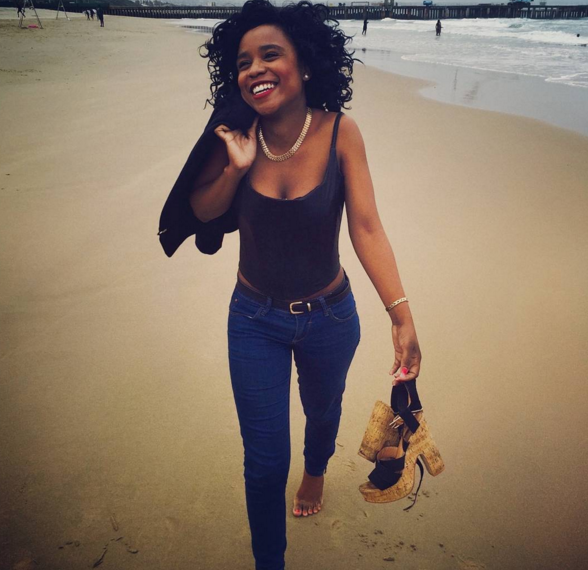 Flabba's death
The death of rapper Flabba shocked the nation. His girlfriend Sindisiwe Manqele admitted to stabbing him, but told the court during her murder trial that she had done so in self-defence. She was found guilty of murder on 9 December 2015.  Family, friends, and fans of the late Skwatta Kamp rapper bid a final farewell to him at a memorial service in March.
Image credit: YouTube Screengrab