The funeral service of
the late Amapiano star Mongezi Mampurampura Stuurman, affectionately known as Mpura
is taking place today. Friends and family have gathered at the Protea South Hall, Soweto in Johannesburg, to celebrate his life, as they take him to his final resting place which will be at the West Park Cemetery in Johannesburg at 11 AM.
Read more:
Mpura Had Big Plans For Himself
Attendance to the funeral service is minimal due to the
COVID-19 regulations,
however fans can watch the funeral service below: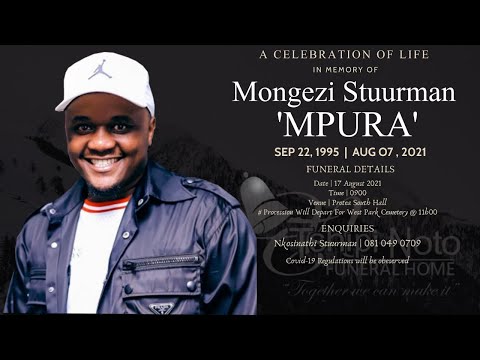 Mpura lost his life
after the vehicle he was travelling in collided with another in Rustenburg whilst he was on his way to a gig. In the car with him were 4 other occupants;
Amapiano star Killer Kau, real name Sakhile
,
Khanya "The Voice" Hadebe, DJ Thando Tot and TD.
The driver of the other vehicle, a fire fighter by the name of Bra Sanza also lost his life.
According to
Sunday World,
Mpura had plans to do a thanksgiving ritual where he thanks his ancestors for his successful career as an
Amapiano artist
. The publication spoke with his grandmother, Gogo Babe Blaza Stuurman, who said the last time she saw Mpura was when he visited her to plan for the ritual. She had instructed him to buy items for traditional beer which would be consumed by him and friends at the ceremony.
"He then hugged me and told me that he loved me and promised to see me again when he brings the things I told him to buy. Little did I know that I was seeing him for the last time," she told the publication.
Khanya Hadebe's funeral
took place on Saturday, August 14. Among the guests was
Uncle Vinny
, who was one of Khanya's friends. He spoke so profoundly about the young up and coming star and said he taught him confidence.
"It's very unbearable to think that all the dreams and the ideas you had and were about to launch to change the game. Personally, you taught me to be very confident and never allow anyone to bring me down. I remember my first gig. You were so proud of me. You told me it was only the start and indeed, it was the start," Uncle Vinny was quoted by
Daily Sun
.
One of the big pioneers of Amapiano
Killer Kau, was laid to rest on Sunday, August 15
. At the funeral, his uncle Remember Khumalo, revealed that Sakhile lost his mother and brother due to car accidents, "I never thought I'd have to say rest in peace to Sakhile or one of my nieces or nephews. I thought they would have to say that to me.
"What hurts me the most is how Sakhile's mother passed away. It was terrible. It happened again when his brother died in an accident. I thought they would try to break the cycle so it doesn't happen again in the family. Today, we are seeing it again. Why it keeps happening in the family, I don't know."

Killer Kau is survived by his three other brothers, and three sisters. They all spoke in disbelief at his funeral with one of his sisters saying she will miss his loud voice and cologne. His youngest brother Siyabonga said Killer taught him love, "Bro, all you taught me is love. You've played a whole lot of different roles in my life. Thanks for everything you have done for me and for being there for me. No-one else can take your place in my heart. I will miss you."