Cassper Nyovest
might have tried to mize the hate he received for the whole of last week, but we guess his ego got the best of him as he cannot ignore the hate any longer. The rapper wants to fight
Slik Talk
and has offered him R100K, win or lose.
Read more:
Cassper Has A Message For His Haters
Cassper Nyovest has been trolled
for too long on these social media streets and it is mostly for; his music with Slik Talk saying it is trash, his Artist Of The Decade nomination at the South African Hip Hop Awards which Slik Talk said he does not deserve because of his music and the fact that he hasn't been in the game for a decade, his apparent dismal
The Braai Show With Cassper Nyovest
numbers and how he always blocks people on social media - he even gained the nickname Don Blockiato.
Cassper said he will no longer be entertaining such trolls and will continue to block, but there is one person he will not be mizing and that is Slik Talk, as he wants him in the ring.
"I no longer will be responding to trolls, this is not cause I don't want to, I actually enjoy to show y'all flames cause it's in my nature. I'm doing it cause I have seen an great amount of fans pleading I don't. I also think they doing it cause they know I'll respond. BLOCK ALL!!" he announced.
Cassper offers him R100 000, win or lose, all he has to do is survive at leats 3 rounds with him in the ring. He honestly cannot wait to show him flames.
"I would love to see Slik Talk in person doe, preferably in the ring. Tell him I Got 100k for him Cash, win or lose. All he has to do is survive 3 rounds, 3 mins with me. He got balls to talk on camera let's see if he will man up and come get this money. Offer stands till Jan," he said.
Cassper reckons he is Slick Talk's idol and said he will be getting the clout he always wanted in the boxing ring, "Another thing, if he shoots another video talking smack about my generous offer the deal is also off. This will be my last reply. Meet me in the ring, survive 3 rounds and get your 100k. You get the clout you've always wanted and you get to meet your idol Cassper Nyovest."
Slik Talk dissed Cassper and said he is
behaving like a teenage girl
for blocking people, " First of all this is what I was saying about emotional intelligence intelligence, something you don't know about Cassper. Everything that I said about you in my video was facts. Your music is trash and that's a fact. Your TV show is flopping that;s a fact. Your merch is garbage and no one has bought it. This year and that's a fact. No one is conspiring against you. Stop behaving like a teenage girl" he said.
People thought Slik Talk was not going to accept the offer because he is probably scared but to their surprise, he accepted the offer in a 1-min YouTube clip.
"Everybody around me is saying don't do it, you've never boxed a day in your life, they say you have never been in the ring, but if there is one thing I'm not, I'm not a punk. So I say, I accept, let's f*****g go!"
"I am 100% ready, I can box next week, I can box tomorrow, I can box in 5 minutes."
Slik Talk said he cannot wait to knock Cassper out but said if he loses he will never ever post a diss video about Cassper ever gain, "Imagine me knocking out Cassper Nyovest in front of everybody that to me is worth so much more. The condition for me is that if I get knocked out I will never ever post about Cassper ever again, and I will 100% apologise to him."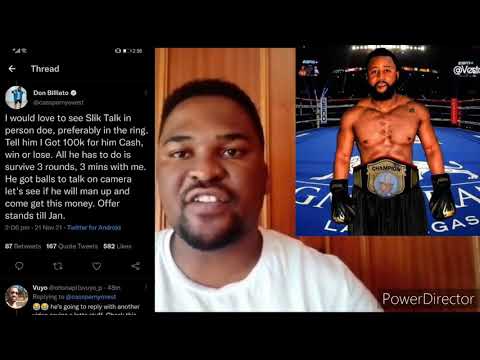 Read next:
Another ZAleb Baby Is On The Way
Image credit: ANMG