With all that he achieved this year alone,
Cassper Nyovest
definitely has more to celebrate. And some of these things have taken place on days which were closer to his birthday so he spoiled himself with expensive gifts.
Read more:
Cassper Shows Off His Expensive Chain
Cassper
signed a
R100 million deal with Drip Footwear
which gave him the power to create his own sneakers, he launched Billiato spirit earlier this week, he just ended a "successful" season for the Braai Show With Cassper, and he won big as
Artist Of The Decade
at the South African Hip Hop awards.
Each of these are major achievements for him and he spared no expense in making sure he is happy.
Now, Cassper spoiled himself with a stunning black McLaren car which is just another addition to his Bentley's.
On the same day, he bought a custom made, diamond encrusted pricey Frank Muller timepiece. He drew inspiration from his favourite footballer Christiano Ronald when planning the design for the watch.
"I've got a lot to celebrate. Launching Billiato this week, Winning artist of the decade, my birthday in two days. I decided to spoil myself with my very first Frank Muller. This is not your normal Frank Muller. Fully customised. Diamond encrusted. A watch fit for a king."
The cheapest Frank Muller watch starts from about R300K but Cassper said he spent way more on the watch because he had to get some work done on it.
This pricey purchase is just another one he made as he bought a diamond encrusted chain worth R1.4m. "
New chain alert. Early birthday Gift. Dropped 70 000 pounds not Rands. It's been a good year!!! Don Billiato!!! #BilliatoATasteOfWealth
," he wrote.
Cassper is set to fight his biggest hater, Slick Talk on the ring on December 22. "So it's set in stone. Not the fight I wanted to start with but at least dude had the balls to back his words up unlike all the guys who ran their mouth and then ran away. I have a little bit of respect for him for taking the fight but I am going to knock him out! #FameVsClout."
The match can be viewed live on YouTube on December 22 at 21:00. The fight will take place in December 22 and they will fight for 6 rounds which are 3 minutes each. If
Slik
lasts at least 3 rounds, he wins R100 000, but if he knocks Cassper out after 6 rounds, he takes an extra R100 000 home!
Responding the poster, Slick Talk said he is only doing this for the money, but promises to beat Cassper.
"The boys are up baby, the boys are up. A hundred f*****n K (thousand). I'm not gonna lie to you Cassper, I'm doing it for the money, f*** it."
"Thank you Cassper for being such an emotional little girl, now you're about to get knocked the f*** out on the 22nd of December… I'm not going to lose to someone who was smacked in the face by AKA, that is not gonna happen."
"Do you really think that you're gonna beat me, my n*****? I don't give a damn if you've been training for two years, five years, 10 years, there's absolutely no way in hell that Cassper Nyovest's gonna beat me in a boxing match."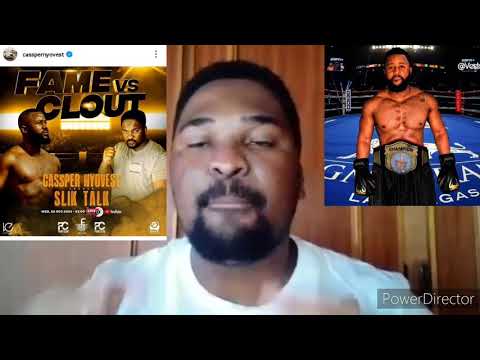 Read next:
Somizi Addresses Sexual Favours Allegations

Image credit: ANMG