The highly anticipated
boxing match
between Slik Talk and Cassper Nyovest is off to a very rocky start as there are some disagreements between the two parties. If it isn't Slik Talk firing
Nota Baloyi
, his representative, it's Cassper's team making sudden last minute changes. Which begs the question: is this fight going to even take place?
Read more:
Cassper Breaks Silence On "Plummeting" Braai Show Ratings
In a matter of hours,
Slik Talk
appointed Nota Baloyi as his representative, only to back track on his decision and take him off the fight. He also used the opportunity to call out Cassper's camp for not being organised in a way that might derail the fight from taking place.
The reason Slik Talk gave Nota the boot is because he felt as though he would make the whole fight about himself. So he decided to handle things by himself.
"I made a quick decision. Nota is out the f*****g fight. I decided he's not going to be necessary for this fight. I think he's gonna make things about himself and that's what we don't need.
"We need the fight to happen. Communications will be done by me directly. Nota, I'm sorry you had to find out like this but you're fired," he announced.
Slik Talk then dissed him and told him to go back to Kwesta. Just to take you back,
Kwesta and Nota had a fallout
and which resulted to some name calling and insults.
The YouTuber even took aim at Cassper and his team for not sticking to initial agreements. When Cassper offered Slik Talk the opportunity to become R100K richer he said he had to survive 3 rounds with Cassper in the ring, win or lose.
But he has since shared some screenshots of a conversation between he and a rep from Mufasa's team with the conditions slightly changed. He thinks Cass tweeted when he was emotional because they had agreed to 3 rounds not the 6 they offered.
"As I am talking to Cassper Nyovest's team I realised mid-conversation that I was dealing with some bum a** drop-outs," he said.
Cassper then said the offer will stand until January but Slik responded in a matter of hours. The fight according to the screenshots will take place in December 22 and will fight Cassper for 6 rounds which are 3 minutes each.
Then the terms of payment are that he has to last at least 3 rounds without getting knocked out otherwise he will not get paid anything. But if he lasts those rounds he will get paid regardless of the outcome afterwards- remember win or lose.
But Slik Talk is not interested in doing that, he wants to get paid whether or not he wins or loses. He has his own conditions which are he wants the money guaranteed whether or not he gets beat up on the second or third round.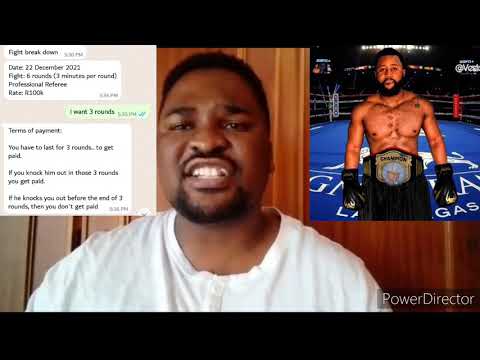 He is confident that he will knock Cassper out and will come out victorious, on the other hand, Cassper says this fight is definitely his to win and is fighting for all the people and women, Slik has disrespected.
"They can get all the fame. I just wanna see Slik Talk in the ring for a few rounds. This one is for everyone he has disrespected. All the women, all the celebs. I am going to knock his head off. They can get all the clout they want. He is gonna pay a big prize in the ring.
"All we have to worry about it getting the guy in the ring. It's easy to tweet but does he have the guys to take a chance ? I don't think so. If he does though he will have my respect. My respect and a train off big punches. I'm definitely knocking him out..." he promised.
Read next:
Joe Kazadi Lands A New Acting Role
Image credit: ANMG