Somizi Mhlongo
has pulled a
Pearl Thusi
on local paper,
Sunday World
when they approached him for comment regarding news that a
season 2 of his cooking show, Dinner At Somizi's, is halted.
Read more:
Somizi Drags Journalist Over Divorce Rumours
Following the success of season 1 of the popular
Mzansi Magic
show, Dinner At Somizi's had a promising future and as season 2 became a huge possibility. This all came crashing down when Hastings Moeng came out publicly to declare that the show's plot was his idea. He accused Somgaga,
Legend Manqele
and Multichoice of stealing his show and has now taken legal action against them.
When the publication approached Somgaga for comment on the ongoing legal battle, he lost his cool and a truck load of swear words were hurled at them - Pearl Thusi style.
Read more:
Pearl Thusi Comes Guns Blazing At Tweeps Who Diss Her Sister

His very good friend is known for insulting trolls by dragging their mother's in her clap backs. That is exactly what Somgaga did and it was not pretty.
Read more:
Dinner At Somizi's Theft Drama Continues
Even though
M-Net's
Channel director for local entertainment Nomsa Philiso said season two is not in the pipelines and has not been discussed, Somizi on the other hand had nothing but insults to throw at the publication.
"Deadline yo m***u kan**ko, g**o lika yihlo, u fu**en abortion survivor," he said. In translation, he insulted the journalist's parents and implied that he or she survived abortion.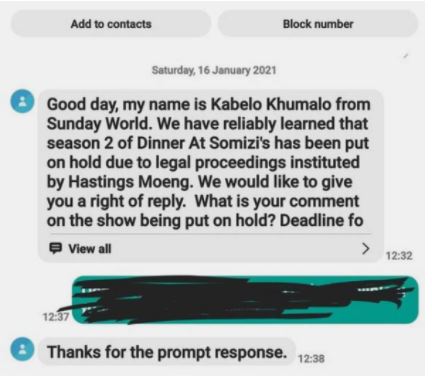 Perhaps all of this anger stems from the fact that Hastings slapped Somgaga, Barleader TV & Multichoice with summons on December 30 2019. Hastings is clearly not backing down without a fight as he wants these demand to be met: Hastings Moeng demands compensation as well as an additional 15% interest for Somizi's cooking show as it is his brain child.
In addition to that he wants to be contracted for the coming seasons of Dinner At Somizi's and also to deem their verbal contract which was made in 2013 as valid - the same verbal contract Somizi denies being a part of.
Denying these allegations
, Somizi said he did not receive any email from Hastings, and he also said he does not open his own emails. Somgaga did not dispute the fact that he was approached by Hastings to do the show, adding that he was approached verbally by Hastings.
"I only spoke to him once. I think it was in 2013, not 2014. He told me he wants us to do a cooking show (called) "Dinner with Somizi," or something like that. But I have never seen any documents."
Read next:
DJ Fresh And Euphonik Open A Case
Picture credit: Instagram