Media personality Tbo Touch
is not entirely happy with the outcomes of his interview with Mac G and Sol. He was the latest guest on
Podcast and Chill with Mac G.

Read More:
Tbo Touch Speaks On The Angel Of Death
Tbo Touch revealed that his interview was censored and edited. Taking to Twitter, he wrote: "My interview on #PodcastandChillWithMacG was censored and edited. I guess the Tbo Touch story will always be distorted. I will tell the rest of the story when the time is right! Big S/O to Mac & Sol for the recovery."
Sports broadcaster Robert Marawa
also shared that his interview was "viewed and rejected to be flighted by the almighty Channel O"
When
Channel O
announced that Podcast And Chill was joining its family, the channel promised viewers honest and raw conversations.
"No topic is off-limits, from the deeply personal (battling illness, life in prison, childhood traumas), to fame, politics, and navigating media scandals. The conversations are so honest and raw that the viewer sometimes feels as though they are eavesdropping on private chats between close friends, a sign of interviewing done right," read the channel's press release.
Podcast And Chill
Network released a statement yesterday stating that
Tbo Touch
's episode has fallen victim to memory card data corruption.
"...and as a result, some parts of the interview have been irretrievably lost. We exhausted all the efforts to recover as much of the data as possible with no success.
"This is now way an act of sabotage nor is it an effort to censor (mute) the remarks and/or statement made by our interviewee but rather regrettably the result of unforeseen technical glitch beyond our control."
The episode has been trending since its premiere on YouTube yesterday. Tbo Touch spoke about a number of things including his American accent, Metro FM experiences, and his life in the states.
Speaking about his accent, he said his high school experiences forced him to adjust his accent.
"Do you know how difficult it is when you are in high school and all your friends are like 'what are you saying?' All of your friends in high school and I'm not talking about university, high school. And then they would ask each other, 'what did he just say?"
"...There's this exhaustion that comes with time to say these guys don't hear me...I'm going to try my best for them to hear me. Unfortunately, it became slightly permanent."
He also revealed that
the former SABC CEO Hlaudi Motshweneng
suspended him because he couldn't keep Floyd Mayweather in the studio after the interview for Hlaudi and his wife and kids to take pictures.
Watch the full video below.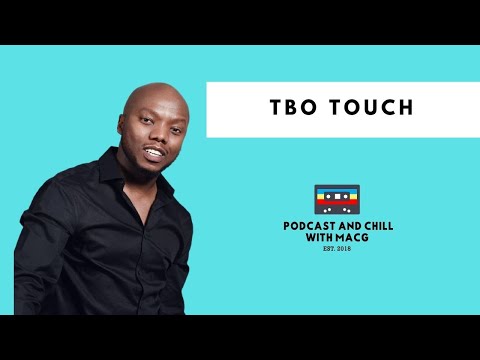 Read Next:
Dillish Is At It Again
Image Cred: ANMG