Cassper Nyovest
made headlines and trended for an entire day following his sweet defeat on the
#FameVsClout
boxing match. Cassper beat his number 1 hater, Slik Talk on the ring in front of R100K people who viewed the fight live on YouTube.
Read more:
Cassper Promises Slik Talk R200K If He Knocks Him Out
After the fight
, Cassper Nyovest
went on a video call with the mother of his child Thobeka Mjozi and their son Simba. She expressed how proud she is of him and even though she hates the idea of fighting, she still felt happy for him.
"Dada killed it tonight! Khotso was so sad I didn't let him watch. Still hate the idea of fighting, but we're so proud of you," she wrote.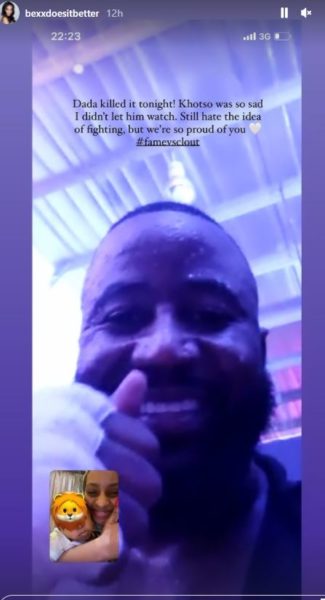 There has been rumours of bad blood between the two of them as she was absent at his
Birthday celebration and Billiato launch.

Cassper
was always excited about this fight saying, he really wanted to beat
Slik Talk
not only for him but for all the people he had disrespected. On social media, "Putting a fight together is so hard. I learned the hard way. Ni**as wanna tweet but don't have the guts to slug it out. They all ended up running. They come up with excuses or they start demanding money they can't justify. At least Slik talk has the balls to take a beating. If Slik Talk knocks me out, I'll give him an extra 100 thousand. Dec 22nd , we about to give yall a show. This one is for
all the people Slik Talk has ever disrespected
. For everyone who been cyber bullied!!"
"They can get all the fame. I just wanna see Slik Talk in the ring for a few rounds. This one is for everyone he has disrespected. All the women, all the celebs. I am going to knock his head off. They can get all the clout they want. He is gonna pay a big prize in the ring.
"All we have to worry about it getting the guy in the ring. It's easy to tweet but does he have the guys to take a chance ? I don't think so. If he does though he will have my respect. My respect and a train off big punches. I'm definitely knocking him out..." he promised.
After the fight, Slik Tlk took to YouTube a few hours later to state how much he respects Cassper and his management team for their professionalism.
"I want to give a huge shoutout to Cassper Nyovest, his manager and the whole of ridging The Gap entertainment for the level of professional. Those guys kept the level of professionalism high and I appreciate that.
"You never know how big
Cassper Nyovest
is until an event like that happens. I have been doing my videos for over 2 years, I've trended multiple times. That was the first time ever that after an event like that, I'm getting calls from people that I thought were dead. That's how big he is," applauded Slik Talk.
"When he looked in my eye, he saw somebody that was prepared to die in that ring. I was not leaving that ring without the money. People I did get the money," he said adding that he did get paid on the morning of their fight.
Read next:
Fight Brewing Between Somizi and Mohale?
Image credit: Instagram